We were so fed up with the trolley tour narrative in St. Augustine that we decided to head south for as long as daylight lasted. Stormy skies and threatening rain brought us to a stop in – of all places – Daytona Beach Shores. We called ahead and got a room at a discount rate in a huge eleven-story resort hotel right on the beach. Much to our surprise, the room was lovely and the birthday dinner delicious. When we woke up the next morning, we discovered the full horror of the strip and wondered how anyone could spend a vacation in such a place, however white the sand and salty the water in the beach front pool.
We headed south again on back roads and within an hour were in the Merritt Island Wildlife Refuge, the northern half of Cape Canaveral, surrounded by beautiful and interesting sights. The first creatures we met were three small black pigs foraging in black mud by the side of the road. When we backed up to try to get a photo, they scampered off into the palmetto scrub. After that came a red-bellied woodpecker intent on getting inside the top of a telephone pole. Not long after, a boat landing provided the sighting of a dolphin, a manatee, an osprey and a cluster of black vultures using boat trailers and parked pickups as perches. We turned off the road again soon after onto 13 miles of dirt track winding around through scrub and shallow ponds. At every turn there was something to see: gorgeous, if shy, tri-color herons, glossy ibis, a reddish egret along with several sizes of white ones, white pelicans, wood storks, roseate spoonbills, a marbled godwit, sleeping blue-winged teal, two bald eagles sharing a perch, a kingfisher and, last but not least, three sun-bathing alligators. This is the Florida it is hard not to love.
---
Nightfall found us at Jupiter, where we walked into a small, riverside resort on Rte 1 and were given a huge room with two double beds at a very off-season rate. As we were a bit ahead of where we expected to be on Saturday, we decided to take a detour off 95 and drive into Fort Lauderdale to see why it was a spring break mecca. Big mistake. This is the Florida it is decidedly hard to love. Really part of Miami already, the waterfront and the waterway-side were equally unappealing. We scooted inland looking for lunch. The traffic was terrible and the neighborhood dismal. So bad that we ended up eating at a MacDonald's – the first fast food of the trip – before fleeing down the Florida Turnpike all the way to the end. It was a relief to find a quiet little resort on Key Largo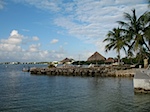 ---
and to know that the following morning would find us a our final southern destination: Kristin's family condo on Marathon Key.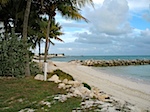 And here we are most comfortably installed in this pretty apartment by a pool, with the ocean just a few steps beyond the neighboring building not quite two months after we left Sprague Road in Phippsburg, Me. It has been a wonderful trip, just the kind of exploring we enjoy. As always, it is the unexpected that thrills. The pictures in the next post
"Seen along the way"
illustrate the fun we have had spotting quirks as well as birds.