Before we turned into sun-drenched vegetables in this world of white sands and turquoise water, we took advantage of a less than perfect beach day to drive to the end of US Route 1. South we went over the 7-mile bridge, past Henry Flagler's magnificent old railroad bridge at Bahia Honda, past state parks and the signs warning of crossing the territory of the tiny and highly endangered key deer, and on to Whitehead Street, past the house where Hemingway lived and wrote between 1931 and 1942, until we reached the Route 1 Mile 0 marker in the heart of Key West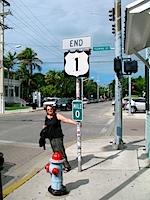 two months and two days after leaving Rt. 1 in Maine on 13 October. Having heard and read so many stories about a rowdy city full of gay bars and kitsch, we were quite astonished to find street after street of beautiful, bahamian-style houses and lush, tidy gardens.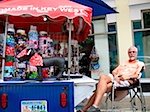 ---
We went to the Blue Heaven restaurant because that's what you do if you don't actually stand in line at lunch time to visit the Hemingway house; you go to his favorite restaurant instead. Even though there were no cockfights or drunks in the restaurant courtyard, there was a handsome rooster strutting around under the magnificent old shade tree under which we had a delicious lunch.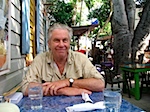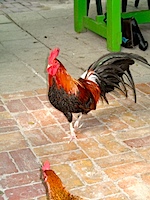 The shower in the restaurant ==>>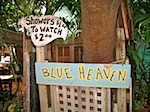 ---
The sun came out and off we went to check out the two humungous cruise ships that were docked nearby, dwarfing some fairly impressive Coast Guard ships. Despite having just absorbed four or five thousand visitors, the port was a very pleasant place, and we lingered long enough to make a few purchases and check out a few boats in the yacht basin, one of which is the schooner Appledore we had first seen sailing out of Camden Harbor.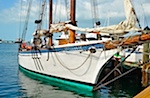 ---
It was fun just to cruise back and forth on the cross streets, looking at the Christmas decorations on the many pretty wood houses.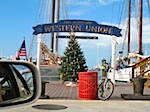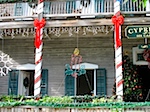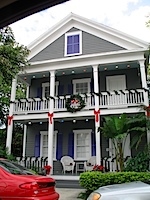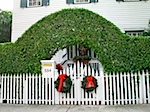 ---
Eventually, we took a turn down a street at the end of which we could see water, and there to behold was a crowd of tourists having their pictures taken in front of a peculiar monument to the southernmost point of land in the continental USA. (We were in the car and couldn't stop, so the photo is a bit blurry.)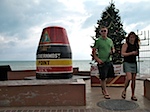 We didn't try to park, but drove on behind a nice beach until we reached a small monument to those who had died of AIDS in the city. Very tasteful and moving.
We'd expected the Keys to look something like the Grenadines: all glistening sand beaches and turquoise water for 100 miles. The turquoise water is there, but it is surprising to see how much thick vegetation covers these islands and how few beaches there are.
So we began the first northern movement of the trip (well, except for going up the Blue Ridge Parkway in Virginia), back up to Marathon Key. The southwards explore must be over, and now we can turn the car north to Estero and Christmas with Anne, Emil, André and Theo.