We started back north from Estero, Florida on the 21st, heading for St. Cloud, Florida, but with a night in a place called Lake Wales, Florida. Rather than blaze up I-75 (again) and across I-4 to Orlando, we went inland from Estero, north of Immokalee and north through Labelle. East of Estero the road passes the CREW trust land, all part of the Corkscrew Regional Ecosystem Watershed. Together with the Audobon Sanctuary Preserve to the south, it's a impressive effort to set aside land and to work with the agribusinesses in the area. The land around Immokalee is some of Florida's most intensively farmed and as you drive north through LaBelle this continues up towards where you cross the Okeechobee Waterway, which links the Intracoastal Waterway in Eastern Florida to the Gulf Coast Waterway at Fort Myers. The housing along this section of highway and in the small towns is often rundown trailers or old shacks, with a huge latino population who largely work in the agribusinesses.
After you cross the Waterway the land turns mostly to cattle ranch through which you drive at 60 MPH for over an hour. Then the land begins to rise and turns gradually into huge citrus groves as far as the eye can see. Sebring, of race-track fame, is next and highway 27 here is one long unpleasant strip for a good ten miles. The town of Frostproof is next along this stretch, named for the hills on which it sits where the cold air drains away into valleys and helps avoid frost kills in the citrus groves.
We stopped for the night at Lake Wales and spent next morning visiting the Bok Tower Gardens. The gardens here, laid out by Olmstead, are beautiful; the tower with its carillon is a bit curious.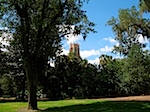 ---
Next day we headed for St. Cloud, Florida to spend the night with Donna Cunningham Hoffman and her husband Bill. Donna was a grade school classmate of Katie's in South Acton, and we crossed paths again last fall at the 50th reunion of our Acton school classmates in Acton, Massachusetts. We were only able to spend the night but what a great time we had. They invited old friends from Massachusetts and we talked and sipped Bill's excellent wine until late at night and enjoyed every minute of it.
---
Monday the 23rd we left Bill and Donna's early, heading for Darien, Georgia. The reason for this stop was to make a visit to Sapelo Island. Sapelo is the fourth largest of the Georgia barrier Sea Islands and accessible only by ferry or private boat. It is almost entirely owned by the NOAA through its National Estuarine Research Reserve division, and by the Georgia State park system; 470 acres are still in private hands and largely held by members of the Gullah community established there for generations, the history of this can be found here. Wikipedia has a good broad brush history of the island.
Access to nearly all of the island is strictly limited, especially the wildlife reserves. However, on the last Tuesday of each month, November through April, the tours offered by the Research office include that section of the island, and we happened to hit that last Tuesday, by sheer chance. For $10 each, we got the ferry ride, a guide and a five hour drive around the island, and very sore butts from the bouncing old schoolbus. It was a treat. The island and its beaches are beautiful,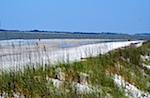 the history is fascinating, and if you want to rent the old Reynolds mansion with a group of 12 of your best friends, here's how.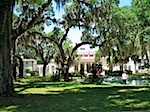 Part of the tour included the Sapelo Island Lighthouse, now inactive but recently restored. It's one of the few lights that also had a paired range light: a range light is used to line up two lights so a skipper can follow the line through the hazards. But when you stand at the foot of the Sapelo Light, and sight eastwards across the range light you are looking at the middle of the southern tip of Sapelo. This all demonstrates how far the southern tip of the island has migrated south in recent decades with the waves and currents.
---
Darien, Georgia has quite a history, mostly up to the early 20th century, For generations it was a huge port for the shipment first of cotton and then timber. As with many of the coastal towns, if its heyday has passed, there are many attractive features to the town and its surroundings.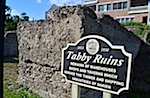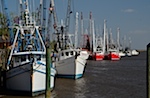 The coastal Georgia marshes are beautiful, the old buildings and churches are interesting and the town is well-kept and has refurbished its waterfront. There are good restaurants, inns and B & B's and the friendliness common to many coastal areas. You're really back in the country of the live oak here, and as you often find, the trees have right of way on (in) a roadway. The live oak, like the coastal marshes, quickly became one of our favorite sights along the SE US coast.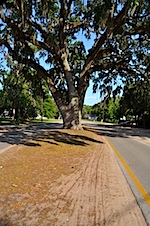 ---
Finally, it was time to put the pedal down. We split the driving up I-95 to see how far we could get, and ended up in Rocky Mount, North Carolina; all of South and nearly all of North Carolina in a day!
We had passed up the opportunity to visit Smithfield NC, the home of Ava Gardner, Instead, next morning, being twenty miles from Tarboro, we drove into town to look for a postcard to send to Katie's college classmate, Penny Bridgers, who grew up there. The drug store didn't have any but sent us along to the Blount-Bridgers House. We found the card, wrote out Penny's London address and when the woman managing the house saw it, she was delighted to hear we knew Penny; then we learned from her that Penny's sister Meade had hired here to work at the museum!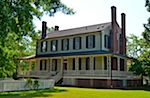 ---
After lunch in Norfolk, and with a black sky and storms brewing west of us, we crossed Chesapeake Bay on the spectacular Chesapeake Bay Bridge, a seriously impressive construction. As usual, we are always amazed how thin the water is in a body of water the size of the Bay:
---
We looked for a place to stay part way up the eastern shore of Virginia and settle on the town of Onancock (the town's site is here) (you read that right; you'd think the town fathers and mothers would have made an effort to to change that name wouldn't you?). We ended up in the Charlotte Hotel, a delightful little place right downtown, with a terrific restaurant and comfortable beds too!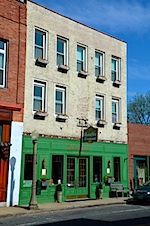 ---
Saturday, 28th of April, and we are off to Chincoteague and Assateague Islands. On the road we passed through Modest Town, VA; to the NW of this town is Temperanceville.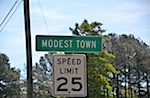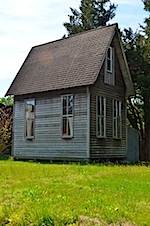 You've all read Misty of Chincoteague, right? This is the place. Chincoteague is pretty tourist-y. But then you drive across the causeway to Assateague (NPS site here), and you find the entire island is a National Wildlife Refuge. We drove out to the front beach, which is magnificent. We also walked one of the paths and spotted some of the ponies, though at a distance.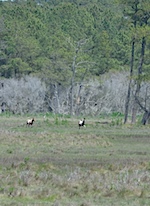 We also met a squirrrel of which we had never heard: the DelMarVa Peninsula Fox Squirrel; see references here and here. We thought we had just seen some rather larger and different-looking grey squirrels but discovered we'd seen an unusual critter.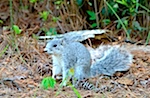 Assateague is a good example of the refuges which make up the National Wildlife Refuges. One of the things we admired enormously during this trip down (and back up) the SE USA coast, was the public access and visitor and learning centers set up by the US Fish and Wildlife Service. While parts of the Refuges are often closed to public access during nesting or other critical times, largely you can enter the refuges by car, on foot or by bicycle and spend as much time as you wish looking at the landscape and critters. We thoroughly appreciated this experience, and it's a system of places which always reward a visit, wherever you may be in the country. Pay attention – go visit your local National Wildlife Refuge today; you'll be glad you did.
---
After Assateague it was time to head for WA DC to stay with Grey and Allyson Terry, and spend the weekend visiting Anne and Emil and André and Theo.
Azaleas were still in bloom in the garden, and the Pfitzer-Parker family was blooming, too, even though Anne had spent the last twelve days in Ethiopia and Seattle, with only a brief stop at home in between. Andre and Theo grew another two inches between Christmas and Easter, and Theo, at 51/2, has really learned to swim. In the YMCA's swim coach parlance, he's graduated from dog to frog, and deserves to be proud of it. Sharing a shower with me afterwards, he said that when my hair was wet, I looked just like his Mom "except for all the wrinkles, of course".
Sunday morning found us heading to the Brookside Gardens and Nature Center with Grey and Dandy adorable, a beautiful 31/2 month old English setter puppy, who was more excited about meeting Andre and Theo than they were about meeting him. We walked through the gardens to the Nature Center where a special day of events for children had been organized. We attended a lecture on raptors and met two owls and a red-tailed hawk. Other highlights for the children included a ride in a bucket lift from which nesting green herons and a Canada goose could be observed in the middle of a pond full of turtles, and tree-climbing lessons with harnesses. Theo objected strongly when we had to leave four hours later, protesting that it was the worse day of his life and that he NEVER got to do what he wanted to do when he wanted to do it. Not a great many sympathy tears were shed, particularly since we had to work so hard to hold our own in the card game we played when we got back to his house. He and Andre are impressive players!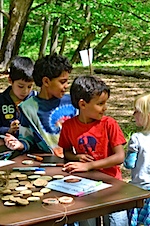 ---
Grey and Allyson, and new puppy, English Setter Jim Dandy, took us in again, as they did last fall; you'd think they'd learn wouldn't you. They have a lovely place near the National Cathedral. We gossiped, met Dandy, caught up on news.
Sunday Grey came with us for part of the expedition with the Pfitzer-Parker clan and Allyson returned from a working weekend in New York on Sunday night. Monday, he made a final massive effort and located the car keys which had been missing for several days and we took them out to dinner to celebrate.
---
Tuesday morning we left the Terry's and headed for the Eastern Shore (of Maryland). Remember that the peninsula on the eastern shore of Chesapeake Bay is the DelMarVa Peninsula: DELawareMArylandVirginiA.
We went down to St. Michaels, which is normally a place which suffers from serious tourist overload but on a Tuesday morning on May Day (yup, we were humming the Internationale) it was almost entirely deserted. It's a lovely spot and you can see why people come in droves, including the likes of Dick Cheney and Donald Rumsfeld, whom we were fortunate enough not to meet. The overcast cleared and we had a very nice lunch next to the water, which appears to be lapping at your feet at high tide, and on really big tides your feet very likely get wet here; bring your boots or Teva sandals.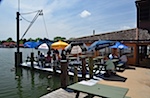 At Neal and Sandra's the Lily of the Valley were in full bloom, and it's May Day, when Europeans pick them and present a bunch to others as a wish for happiness; perfect timing!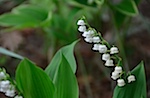 After a fun evening catching up, we went off Wednesday morning to visit the Crumpton Auction. It's worth a trip to this area on any Wednesday to pay a visit and watch the auctioneering and the crowds. You can also buy fabulous meat and other products from the Amish food stands and eat in the Amish cafeteria or at their take-out window. Unless you like high-risk, leave your wallet and credit card at home; auctions can be quite infectious.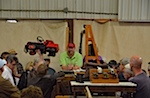 ---
Thursday we arrived for Bronxville for a stay with Beth Olesky and will head back to Maine around May 10. We're getting down to the wire here; nearly over the Year of Living Homelessly (With apologies to Christopher Koch, for the steal on the title of his novel):