Fortunately you also pass through some neighborhoods where 1950's single-level run-down homes and double-wides predominate, a good visual reminder that the black and white population that was there after the plantations fell apart are still there and have to some extent survived the onslaught of environmental correctness. … The beaches (or the one we saw on a cold windy November afternoon) are as advertised: gorgeous, firm sand, free of trash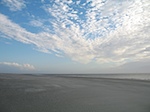 There was a dolphin 10 feet offshore engaged in stranding small fish for dinner, bluebirds in the brush along the high tide line and herons and ibis by the score in the salt marshes. The marshes, as they are all along this SE Atlantic coast, are gorgeous, and there are numerous public boardwalks built out into them at strategic places which allow you to get away from the shore and out where you can see the critters.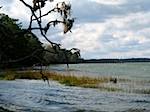 The architecture of houses and condos we saw was uniformly bland in color, and occasionally attractive in design. … The South Carolina Yacht Club was heavily engaged in decorating for Christmas, and in design and appearance looked as if the architects had wished it had been there since the time of William Hilton, or at least since the time when gentlemen sailed yachts.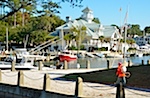 However, it is a pretty building, and it must be pleasant to sit on the wide porch in warmer weather and watch friends and neighbors chug by on their way in and out of the purpose-built locks that separate the harbor from the tidal river to prevent the boats owners having to cope with tides in the boat basin; in a properly managed life, it is always high tide after all.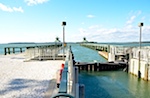 One startling aspect is the school buses: there are actually people living in these houses and/or apartments/condos, and there is a public school system on HHI; there is also a private academy, as you might expect.
Tagged Hilton Head