South we went over the 7-mile bridge, past Henry Flagler's magnificent old railroad bridge at Bahia Honda, past state parks and the signs warning of crossing the territory of the tiny and highly endangered key deer, and on to Whitehead Street, past the house where Hemingway lived and wrote between 1931 and 1942, until we reached the Route 1 Mile 0 marker in the heart of Key West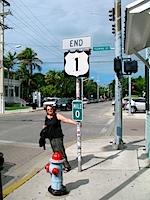 two months and two days after leaving Rt. 1 in Maine on 13 October. Having heard and read so many stories about a rowdy city full of gay bars and kitch, we were quite astonished to find street after street of beautiful, bahamian-style houses and lush, tidy gardens.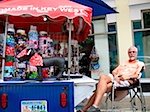 We went to the Blue Heaven restaurant because that's what you do if you don't actually stand in line at lunch time to visit the Hemingway house; you go to his favorite restaurant instead.
…Despite having just absorbed four or five thousand visitors, the port was a very pleasant place, and we lingered long enough to make a few purchases and check out a few boats in the yacht basin, one of which is the schooner Appledore we had first seen sailing out of Camden Harbor.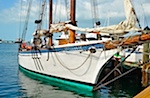 …(We were in the car and couldn't stop, so the photo is a bit blurry.)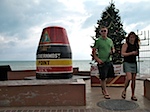 We didn't try to park, but drove on behind a nice beach until we reached a small monument to those who had died of AIDS in the city.
Also tagged Key West, Marathon Key