At every turn there was something to see: gorgeous, if shy, tri-color herons, glossy ibis, a reddish egret along with several sizes of white ones, white pelicans, wood storks, roseate spoonbills, a marbled godwit, sleeping blue-winged teal, two bald eagles sharing a perch, a kingfisher and, last but not least, three sun-bathing alligators. This is the Florida it is hard not to love.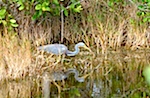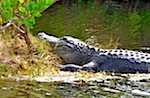 Nightfall found us at Jupiter, where we walked into a small, riverside resort on Rte 1 and were given a huge room with two double beds at a very off-season rate. As we were a bit ahead of where we expected to be on Saturday, we decided to take a detour off 95 and drive into Fort Lauderdale to see why it was a spring break mecca. … It was a relief to find a quiet little resort on Key Largo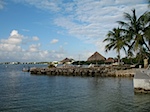 and to know that the following morning would find us a our final southern destination: Kristin's family condo on Marathon Key.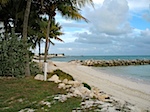 And here we are most comfortably installed in this pretty apartment by a pool, with the ocean just a few steps beyond the neighboring building not quite two months after we left Sprague Road in Phippsburg, Me.
Also tagged Birds, Cape Canaveral, Florida Keys